Here's a fun water photo scavenger hunt idea that can be used with people of any age.
It's therefore perfect for kids at school, youth groups and even with adults!
Here's how to play it: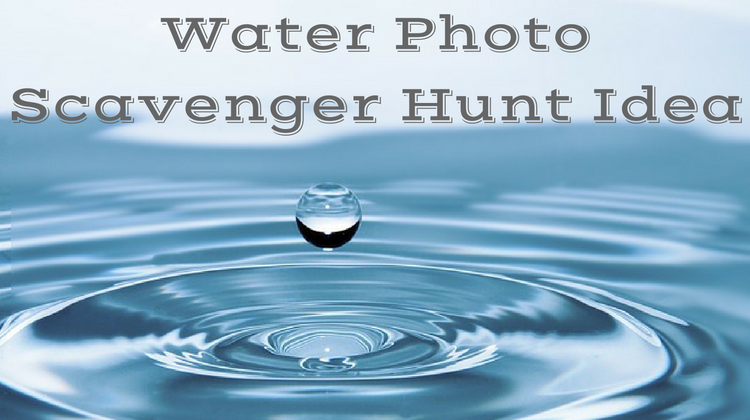 Resources
Pen & paper (optional)

Cameras (cell phone cameras are fine)
Preparation
None
Location
Anywhere!
Teams
If you're setting this as a homework assignment for school kids, it should be done individually.
Otherwise, this game can be played individually or in small teams – it depends on how large your group is.
Instructions
The players' task is to find as many different examples of water in everyday life as they can. As it's a photo scavenger hunt, they need to take a picture of each example that they can think of.
Examples
Here are some examples of different water items and sources that they might identify:
Puddle
Lake
Stream
Reservoir
Water bottle
Faucet
Fountain
Car wash
Water balloon bursting
Super soaker spraying
Hosepipe that's turned on
Washing machine that's running
Windscreen wipers in use
Alternatives
If this is being planned as a chemistry or general science scavenger hunt, you could make it an H2O hunt instead – with this option, students would also have to find steam and ice items.
Scoring
Players earn one point for every different water item that they take a photo of.
You could also award bonus points for other factors like funny photos, creativity, artistic merit, etc.
Internet Version
If you're concerned that some of the players may not have access to a camera (particularly if using with young people from low-income families), you could set this as an internet scavenger hunt instead.
With this option, the players would go online and look for examples of the water sources and items instead. They could then copy and paste the images into a Word document – this can be a good option if wanting to organize this as a classroom activity.
Other Water Games
If you're organizing this scavenger hunt for a youth group or birthday party, check out our sister site Youth Workin' It for 10 other water games that are perfect for using with young people.