This world map scavenger hunt idea is a great activity to do with anyone, whether they're kids, teens or adults.
It can also be a fun activity to do in a geography classroom or as part of a world awareness session with youth.
Here's how to organize it: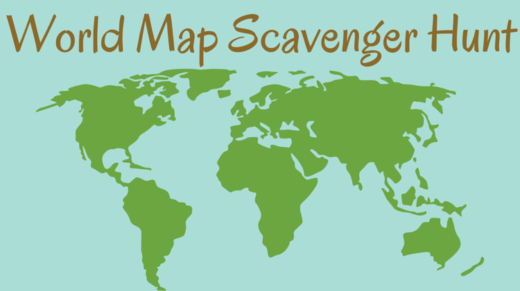 Resources
Preparation
Put together a list of countries around the world that players are unlikely to have heard of, or wouldn't immediately know where they're located. Alternatively, you can use our list below to save you time and effort 🙂
Tip: Make sure that all the countries on your list are actually noted on your map, otherwise the players will have a very hard time completing it!
World Map Scavenger Hunt List
Here's a list of 30 countries that not many people will be able to locate immediately on a world map. Please feel free to use this list or adapt it for your own scavenger hunt:
Albania
Andorra
Azerbaijan
Belize
Bhutan
Brunei
Burkina Faso
Chad
Comoros
Djibouti
East Timor
Eritrea
Fiji
Gabon
Kazakhstan
Kiribati
Laos
Lesotho
Mauritania
Moldova
Monaco
Nauru
Oman
Palau
Rwanda
Sao Tome & Principe
Suriname
Tajikistan
Tuvalu
Vanuatu
How To Play
Give each player a pin. One by one, give each of them a country to find on the map and have them insert the pin once it's been found.
Variations
There are a couple of different ways that you can play this depending on how many maps you have:
Multiple maps – If you have more than one world map, split the players into as many teams as you have maps (or have them play as individuals). Give each team/person a copy of the list of countries and the same number of pins as there are countries. Teams then race against each other to find each country and mark it with a pin. The winning team is the one that correctly pins all the countries first.
One map – If you only have one map, split the players into two or three teams. Split the list of countries evenly between the teams and give them the same number of map pins as they have countries. Teams then have to race to complete their list before the others, with the team that correctly finds all their countries being the winner.
If you liked this travel scavenger hunt idea, check out all of our other scavenger hunt ideas.