You may have played Would You Rather before, but we're guessing you probably haven't ever played a scavenger hunt based on this classic game!
Well, that can change today as here's an idea of how to combine these two fun games. It's perfect for using with your kids or as a youth group activity, but could just as easily be used with adults.
If you don't know how the game normally works, check out our sister site Youth Workin' It for a guide on how to play Would You Rather, or get a copy of our book with 501 Would You Rather Questions: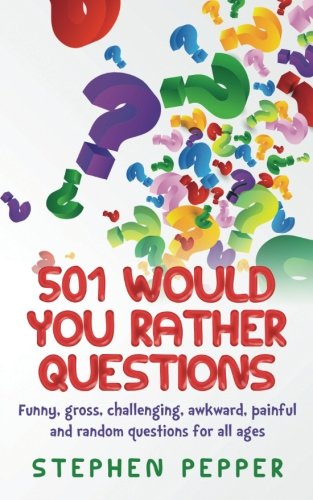 Resources
Paper
Pen
List of Would You Rather questions
Preparation
Put together a list of questions, with each one involving a choice between two (fairly) easily available items – take a look at our 10 suggested questions below for some ideas of what this could include.
Teams
If playing this with a youth group, split them into smaller teams – ideally with an odd number of players on each team (we'll explain why in the instructions below). Otherwise, this can be played individually.
Instructions
Give each of the players / teams a sheet of paper and a pen. Ask them the Would You Rather questions and have them write down which item they'd prefer for each one.
If playing this with teams, they'll need to come to a consensus as to which item the majority of them would prefer. This is why it's best to have an odd number of people on each team, as it means there will always be some kind of majority agreement.
Once they have answers for each question, explain that they're now going to be playing a scavenger hunt. They've written down a list of 10 items (or however many questions you asked) – they now have to go and find all them.
Winner
The winner will be the first person / team to return with all the items.
Questions
Here's a list of 10 questions you could use – we picked these as all the items will be somewhat easy for players to get hold of. The items in italics are the ones that they'll need to collect (depending on which option they picked):
Would you rather…
drink Coca-Cola or Pepsi?
brush your hair with a toothbrush or brush your teeth with a hairbrush?
live in a world with no toilet paper or no soap?
wear jeans back-to-front for one month or shoes on the opposite feet for one week?
put mustard or ketchup on your hot dog?
live without forks or spoons?
wear a t-shirt in the winter or a coat in the summer?
sleep with a pillow and no blanket or with a blanket and no pillow?
live without a TV remote or without a video game console?
eat potato chips or candy?
You can find loads more Would You Rather questions here – not all of them have a choice between two easily available items, but they might give you some inspiration of other questions you could ask.