If you're planning a trip to the zoo with some kids, why not make the visit even more fun with this zoo scavenger hunt worksheet.
It contains a list of 25 animals for them to find along with 3 bonus tasks for them to complete. In addition to the list below, there's a free printable copy of the worksheet.
This is therefore perfect for when you take your family to the zoo, or for a school trip when learning more about nature and animal biology.
Here's how to organize this activity:
Resources
Worksheets (see below)

Pens
Cameras (cellphones are fine)
Idea
Give each of the kids a copy of the scavenger hunt list and a pen. Explain that their task is to try to find as many of the animals on the list as they can.
When they find one, they need to write down a fact about the animal (most zoos will have information like this about each of the animals).
To make the game even more fun, there are also three bonus tasks. These are photo scavenger hunt tasks – this means that the kids have to take photos to complete each of them.
Winner
Although this doesn't have to be competitive, the winner would be the person who manages to find the most zoo animals on the list and write down facts about them.
In the event of a tie, use the bonus tasks to decide a winner.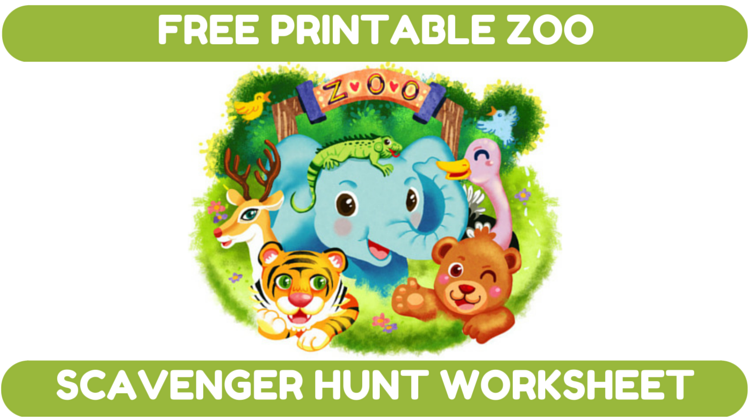 Here's the list of 25 animals for your kids to find. Beneath the list are the three bonus tasks and then a link for the free printable copy of the worksheet.
Alligator
Anteater
Antelope
Armadillo
Cheetah
Chimpanzee
Elephant
Giraffe
Gorilla
Hippopotamus
Lemur
Leopard
Lion
Meerkat
Monkey
Orangutan
Porcupine
Puma
Rhinoceros
Scorpion
Snake
Tarantula
Tiger
Tortoise
Zebra
Bonus Tasks
Animal pulling a funny face
Animal with the best pose
You posing like one of the animals
Printable Zoo Scavenger Hunt Worksheet

If you liked this idea, check out all our other ideas of scavenger hunts for kids.