If you need ideas for fun activities to do with a church youth group, here are 10 Bible scavenger hunt riddles for kids.
There's also a free printable worksheet you can download and use – keep reading for more details.
Here's how it works: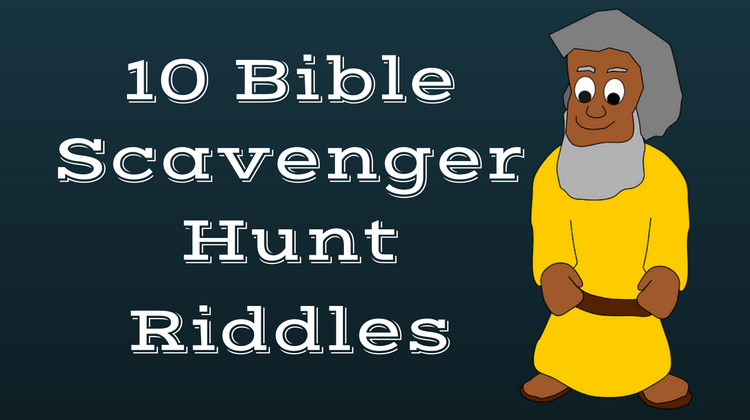 Resources
Riddle worksheet (see below)

Post-it notes
Pens
Preparation
Write down the names of people from the Bible listed below on post-it notes and stick them around the room where you'll be playing this church scavenger hunt.
If you'll only have a handful of kids in the youth group, you could write out each name on several different post-its. That way, each kid can pick up a copy of the post-it, but this isn't necessary if it'll take too long to do.
David

Adam
Zaccheus
Noah
Moses
Jonah
Daniel
John The Baptist
Paul
Peter
Rules
Give each of the kids a copy of the worksheet and a pen. Have them look around the room for the post-it notes with names of characters from scripture.
They then need to match up each name with one of the rhyming riddles describing that person.
Winner
The first person to correctly match up all ten names with the correct riddle description.
Bible Scavenger Hunt Riddles
Here is the list of 10 riddles, along with the names of the Bible characters that each one relates to.
To make this Bible activity easier to plan, beneath the list is a link to download a free printable worksheet with all the riddles on it.
1. David
With a rock
And with a sling
He killed a giant
And became a king
2. Adam
This man was created
Out of the earth
Only person of whom
A woman didn't give birth
3. Zaccheus
He was a short man
Jesus he wanted to see
And so he decided
To climb a sycamore tree
4. Noah
He lived on a boat
As the water started to rise
Looking at him
There were thousands of eyes
5. Moses
This guy built up courage
To go to Pharoah
And said to the leader
"Let my people go"
6. Jonah
Going to Nineveh was something
He didn't wish to do
The person who ended up
In a fish's belly was who?
7. Daniel
This man was set up
By over 100 men
And then he was thrown
Into a lions' den
8. John The Baptist
Lived in the wilderness
On locusts and honey he fed
Eventually he died
After losing his head
9. Paul
Became a follower of Jesus
As to Damascus he went
He wrote half the books
In the New Testament
10. Peter
I don't know him, I don't know him
I don't know him he said
Yet the early church
Is who he led
Printable Bible Scavenger Hunt Riddles Worksheet
If you liked this idea, check out all of our other Bible scavenger hunt ideas that are great for doing with kids in your youth group.
You may also like our book – 52 Scavenger Hunt Ideas that you can get now from Amazon.