If you want to plan a fun indoor activity for kids, here are 10 rhyming kitchen scavenger hunt riddles for you to use.
We've also produced a free printable worksheet to make it even easier for you to plan this game – keep reading to get your copy.
Here's how to play it: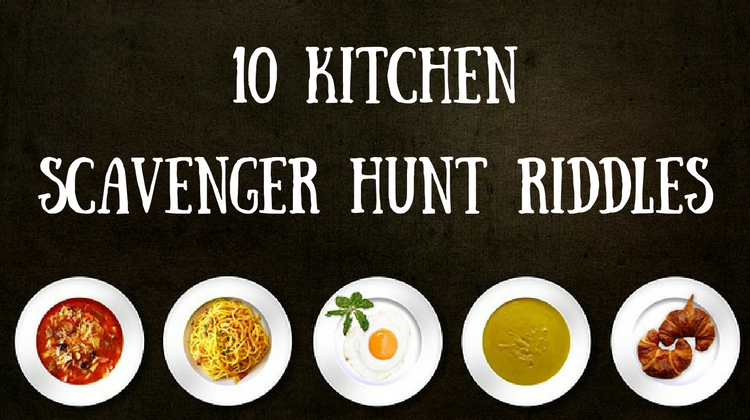 Resources
List of riddles (see below)
Scissors
Sticky tape
Preparation
Print off all the riddles using the free worksheet below and cut them into the 10 separate pieces.
Next, attach the second riddle to the first object (or put it inside of it), the third riddle on the second object, etc – that way, your kids can work their way around the kitchen finding the next item each time they solve a riddle.
Tip
Make sure that the pieces of paper aren't in plain view so that the game isn't too easy for them to complete.
For example, you could hide the second riddle inside one of the salt and pepper shakers, the third one inside the microwave rather than on the outside of its door, etc.
Instructions
Explain to your kids that you've organized a kitchen scavenger hunt for them. To complete it, they'll have to solve 10 riddles where the answer to each one is an item that can be found in the kitchen.
Give them the first riddle and have them work out the answer. Advise them that their next riddle will always be on or in the item they've just found.
Riddles
Here are the 10 kitchen scavenger hunt riddles we've created especially for you to use.
Beneath this list is the link for the free printable worksheet containing these same riddles.
1. Salt and Pepper Shakers
One contains something black
And the other something white
Add these to what you eat
To make sure that they taste right
2. Microwave
If you come home after a long day
And cooking from scratch isn't something you feel
Just grab a box from out the freezer
And stick it in this which will zap your meal
3. Fork
These riddles all rhyme
They're just like some songs
The next thing to find
Has three or four prongs
4. Slow Cooker
When you're going to be out all day
But still want to be cooking dinner
Then choosing this ceramic heater
Might well turn out to be a winner
5. Glasses
Despite what they're called
They don't cover your eyes
You fill them with drink
And then maybe some ice
6. Toaster
When you feel hungry
Having just got out of bed
One item you may use
Is the thing that can brown bread
7. Coffee pot
First you pour in water
Then add some stuff that is ground
When I drink what comes out
My alertness can be found
8. Freezer
This appliance
Keeps food nice
It turns water
Into ice
9. Chair
It isn't a pet
But of legs there are four
It's what you would use
When you can stand no more
10. Door
Only one more riddle to solve
You have done well getting this far
The last thing doesn't contain jam
Even though it's sometimes ajar
Printable Kitchen Scavenger Hunt Riddles
Prize
Seeing as this is being played in the kitchen, if you want to offer a prize, why not make their favorite cookies / muffins / brownies.