We've published 10 indoor scavenger hunt riddles before – those have proven to be so popular, we thought we'd publish 10 more rhyming riddles!
The original post had a list of 10 items that you could hide around the house for your kids to find. This idea works a little differently though, so here's how to play it.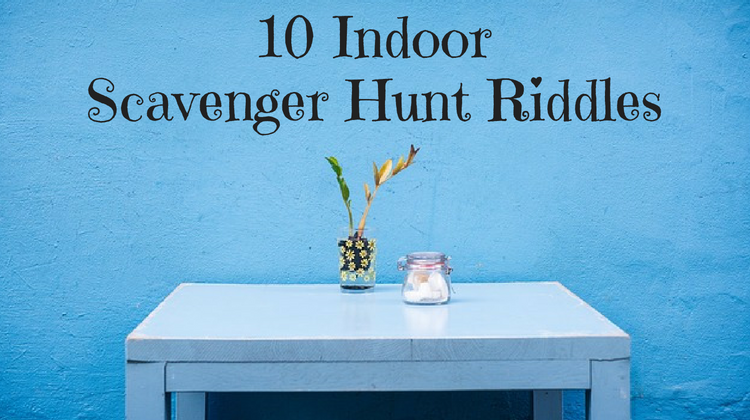 Preparation
You have a couple of options here:
1. If you want to save time and not have to do any preparation, you can simply read each of the riddles to your child(ren).
2. Alternatively, write out the riddles on post-it notes and stick to the items. Where possible, put the post-its inside or behind the items so that your kids won't spot the clues if they happen to walk past them.
The riddle for the second item will need to be attached to the first item, the third riddle to the second item and so on.
Instructions
Give your kids the first clue and have them find the item. If you've chosen the first option above, read out the second clue once they've found the first item.
If you've chosen the second option, you should be able to leave them to it to find the remaining 9 items.
Points
If you have at least two kids playing this and want it to be competitive, award points to help find a winner:
One point for answering the riddle first
One point for finding the item first
Prize
If you want to offer a prize to the winner, you could hide it in the suitcase as it's the final item to be found.
10 More Indoor Scavenger Hunt Riddles
1. Water bottle
This scavenger hunt's thirsty work, so
Find a container of H2O
2. Lunchbox
To have water but no food would be cruel
So look for what you put food in for school
3. Washing machine
Sometimes it contains socks or a shirt
It's where you put clothes to wash out dirt
4. Soap
If your hands are dirty I'm sure you'd rather
Use this to clean them by making a lather
5. Trash can
To find your next clue you'll need to make haste
And go to the place where you might put your waste
6. Curtains / blinds
To answer this riddle you just might
Need to find something that blocks out light
7. Microwave
If hungry is what you feel
Look where you heat up a meal
8. Pillow
If this one's too hard and leaves you brain dead
The item can be used to rest your head
9. Mirror
How quickly can you solve this? It's a race
Look for something that can reflect your face
10. Suitcase
Solve this final riddle and feel elation
It's what you pack things in when off on vacation