We've published 10 office scavenger hunt riddles before – in fact, that's been one of our 10 most visited scavenger hunt ideas so far this year.
It therefore definitely looks like adults need some fun activities at work, so we thought we'd help again by providing another 10 riddles where the answers are items you'll have in an office.
As before, we've provided a free printable list with all the riddles on it to make this game as easy as possible to organize.
This is therefore perfect for using as a team building exercise – here's how to play it: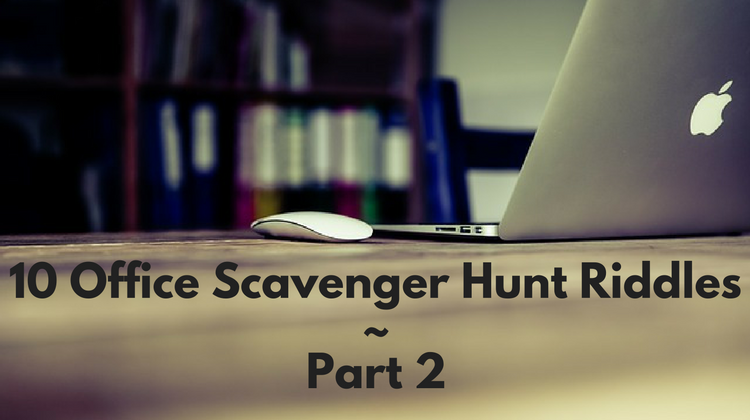 Resources
List of riddles (see below)
Preparation
Split your work colleagues into smaller teams. If you're only a small office, it could be done individually, but small teams or pairs works better for team building.
Providing you have enough space in your office, start in an area away from all their desks. If you're in a multilevel building, start on a different level to the one that you all normally work on.
Instructions
Give each team the first riddle on the list. They have to work out the answer and then go and get the item – either from their own desks or somewhere else.
They then have to bring it back to you, at which point you'll give them the next clue.
Only give them the next one though if they've returned with the correct item! For example, the answer to the 6th riddle is 'sticky tape'. Someone might see the word 'adhesive' though and get some glue, even though this doesn't come on a roll.
Rules
If you want the scavenger hunt to be a little more difficult, here are a couple of additional rules you could include:
Keep the stationary cupboard locked as this will make it harder to find the items they need
Make sure every person on a team has to go and get an item at least once (or more often if team sizes are smaller) – this will ensure a team with a fast runner doesn't automatically win
Winner
This will be the team that answers all the riddles and finds the 10 office items first.
Riddles
Here are the 10 new office scavenger hunt riddles. As mentioned above, beneath this list is a link for a free printable copy of the riddles – please feel free to print as many copies as you need when playing this game.
1. Clock
If you have a meeting in the office
You'll need to know the time and place
Something that can help with one of these things
Has two or three hands over its face
2. Stapler
Fill me up with metal
And let me do my thing
Get some sheets of paper
I'll have them attaching
3. Bulldog Clip
Despite my name
I do not bite
Having said that
I grip things tight
4. Pencil Sharpener
I'm not a razor
But have a blade
I unblunt items
That have a grade
5. Ruler
Contrary to my name
I am not a queen
Hold me up to things though
And their length is seen
6. Sticky Tape
If you're needing something adhesive
As attaching stuff is your goal
Then make sure you come looking for me
As I am always on a roll
7. Hole Punch
My name sounds as though I like to fight
But you will actually find I'm kinder
Because I help with your paperwork
By ensuring it goes in a binder
8. Paper
I do not get put on a bed
Even though I am a sheet
Instead put me in a binder
To keep your desk nice and neat
9. Coffee Mug
Filling these items with brown / black stuff
I am sure you will be agreeing
Ensures everyone in the office
Starts the day as a human being
10. Binder
One inch, three inch, five inch
Choosing one is not a breeze
Because size can matter
When using one of these