A couple of months ago, we published 10 outdoor scavenger hunt riddles – you can find part 1 here. Those have proven to be really popular, so here are 10 more.
Most of the previous ones were a play on words; these ones are a little different as they're rhyming riddles.
They'll lead your kids to various different items in your backyard, neighborhood and other outdoor locations nearby.
If you want to organize it like a treasure hunt, hide objects in each item's location for them to find. Alternatively, hide the riddles on each of the items, with the first item holding the clue for the second item and so on.
Answers
The clues should be easy enough for kids of all ages to answer, but you might need to explain one or two words to younger children (e.g. what an arachnid is).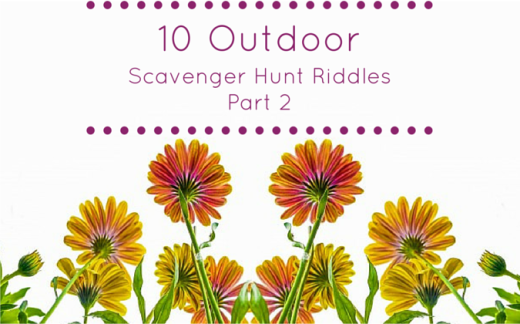 Hosepipe
When not rolled up it looks like a snake
Leave it on too long and you'll have a lake
Sun
You'll see this in the sky during the day
If it had a new name, it might be Ray
Fountain
If you see one of these you might stop and stare
To watch all the water being shot in the air
Leaf
These start off green on a plant that's so tall
Then end up red or orange on the ground in the fall
Wheelbarrow
It has one tire and is in the backyard
It makes moving things around a lot less hard
Road
If you're travelling somewhere this is what you'll see
You need one of these to get a car from A to B
Bark
It's the outside of something planted in the ground
Its name is the same as a dog's sound
Spiderweb
This arachnid's home might be found low and high
You don't want to get too close if you're a fly
Puddle
Whenever it rains this appears in a flash
If you jump in it you'll make a big splash
Flower
They grow by soaking up the sun's rays
Then they're cut and put in a vase
If you liked these ideas, we have loads more scavenger hunt riddles, as well as many more fun outdoor activities.