If you're looking for ideas to use for a pirate-themed birthday party for kids – or for any kind of fun pirate activities – here are 10 pirate scavenger hunt riddles.
There's also a free printable list of all the rhyming riddles for you to use during the game – keep reading for more details.
Here's how to plan this idea: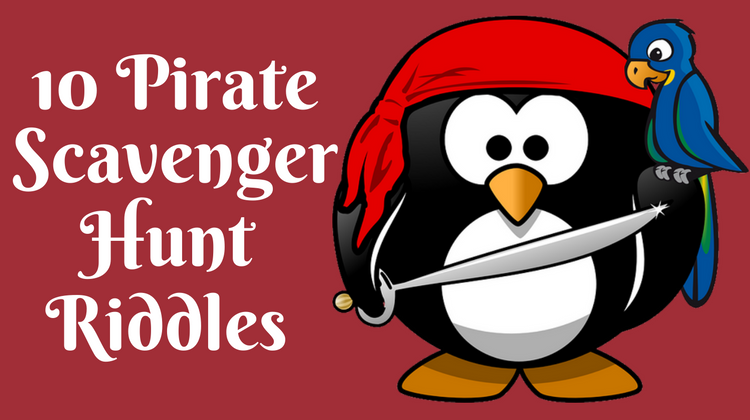 Resources
Riddles (see below)

Pirate items (also see below)
Scissors
Sticky tape
Preparation
Print off the worksheet and cut it up so that there are 10 separate riddles. Attach the second clue to the first item, the third clue to the second item, etc.
For example, the answer to the first clue is a pirate ship. You'll therefore need to attach the second clue to the ship so that once they've found it, they can start searching for the second item (a skull and crossbones). The clue for the third item (an eye patch) will then be attached to the skull and crossbones.
The next step is to decide where to hide all the items. Write on each of the riddles the general location for where the next item can be found (e.g. kitchen, yard, garage, bathroom, etc).
Finally, hide all of the items around the house in the places you've written down.
Riddles
Here are the 10 pirate scavenger hunt riddles. Each one has the answer noted above it, along with a link to get the item from Amazon if you don't already have it.
Beneath this list is a link to the free printable copy of the riddles that you can download.
To start a pirate adventure
You need this without fail
If you are to travel around
You need something on which to sail
The image used on your pirate flag
Is sure to give people a fright
It looks like parts of a skeleton
On a background as dark as night
When you meet a pirate
You might say aye aye
But don't stare too closely
At what's covering his eye eye
You'll end up crashing into rocks
If your ship you cannot turn
So use this important equipment
To control the rudder at the stern
Is that an island in the distance
Or other pirates coming your way?
Just look through this handheld telescope
And then you'll be able to say
If you want to know where you're going
There's an item that's the best
At helping you know which direction
Is north, south, east and west
When looking for buried gold
This item helps a lot
As on this piece of paper
Is where X marks the spot
Now you're getting close to land
You need your pirate ship to stop
So you'll take down all your sails
And this object in the water you'll drop
If you think there is an echo
A second voice that can be heard
It's not a person causing this
But actually this bird
If you find a treasure chest
The value of what's inside is great
There's lots of shiny currency
Also known as pieces of eight
Printable Pirate Scavenger Hunt Riddles
Prizes
If you're using these ideas for a pirate birthday party, there's a good chance you'll be playing other games. You could therefore use all the items they find from the scavenger hunt as prizes for the other games.
If you found this helpful, we have loads more free scavenger hunt ideas, riddles, lists and clues.