If you want to plan a photo scavenger hunt, here's a compilation of some of our best ideas, most of which have free printable scavenger hunt lists.
You're sure to find many fun activities you can use among these 20 photo scavenger hunt ideas, whether you want to organize scavenger hunts for outdoors, indoors, for youth groups, for kids, for adults – we've got them all!
The list of ideas below has links to complete descriptions of how to play the games, along with the free downloadable lists. A few of these ideas also include some tasks that require players to film some video footage – those are marked with an asterisk.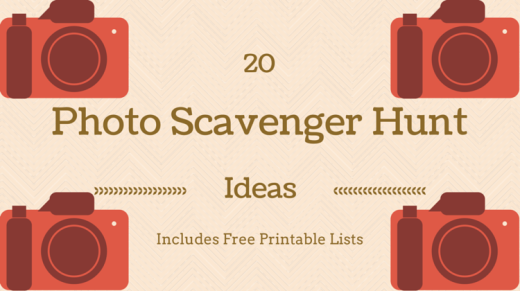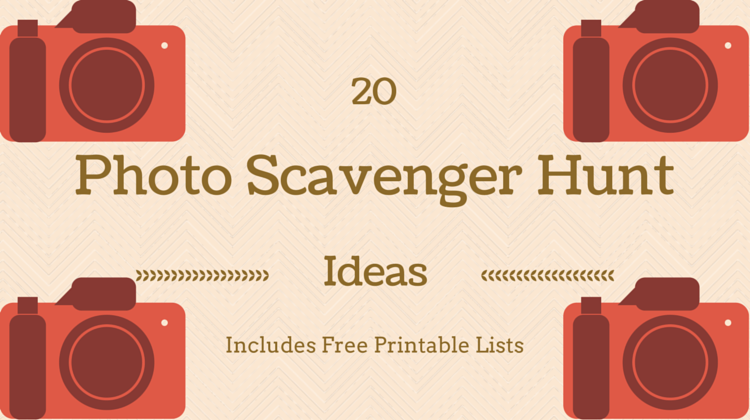 Mall – Can the players find all 20 obscure items and the 3 bonus items before the game ends?
Nature: Creatures – Perfect for doing on a nature walk or even when walking around your neighborhood, this idea lists 15 different creatures for kids to find.
Human – This list has descriptions of 20 different people – can the players find members of the public that match all the descriptions?
Funny – This hilarious idea has 10 items to find and 10 tasks for players to complete.
Pirate – Shiver me timbers! Here's a great game to play with kids, with 12 items to take pictures of and 3 bonus items that require their creativity.
Neighborhood – With this one, players have to find and take photos of 20 different items in their neighborhood.
Love Song – A slightly different idea here. There's a list of 20 songs with 'Love' in the title – players need to interpret the song titles in photographic form, so it has the potential to also be really funny!
Candy – Players don't have to find the 20 different pieces of candy on the list. Instead, similar to the Love Song idea above, they have to take photos of their interpretation of the candy name (see the description for how this works).
Mall: For Teenagers* – This is a great one for youth groups and birthday parties, especially if you want to encourage team building. There are 8 photo tasks and 8 video tasks to complete which are guaranteed to get the players laughing.
12 Days Of Christmas* – With this game, teams have to take photos of all the different gifts from the 12 Days Of Christmas. The list also includes 3 bonus photo items and tasks and a bonus video task.
Christmas* – Here's another festive idea. There are 30 different Christmas tree ornament designs for players to find, as well as 3 bonus photo items and tasks and a video task.
Computer – This list contains 20 computer-themed words for players to take pictures of.
Walmart – This scavenger hunt idea is best done by taking photos, although can also be played as a traditional scavenger hunt where players have to collect all the items in the store.
Human Body – Here are 30 different body parts – players have to take pics of all of them, except they're not allowed to be of actual body parts! Check out the description to see how this creative idea works.
Bachelorette – If you're celebrating someone getting married, here are 15 tasks for you and your girlfriends to complete on a night out.
Winter – If your kids are bored on a cold winter's day, get them to play this photo scavenger hunt which has 20 items and 4 bonus tasks to complete.
Things Beginning With A – The challenge: teams have to take photos of as many different objects as they can find that begin with the letter A. They then earn additional points if they've taken pictures of items that are on your secret list.
Pi Day – Celebrate March 14 with this Pi Day-themed scavenger hunt that has 20 items for players to find.
NYC – If you're visiting New York City, why not make it even more fun with this idea. There are 20 suggested locations and activities for players to take pics of, plus a fun suggestion for a possible tiebreaker if necessary.
Flowers – This idea doesn't need a list, as the task is for kids to find as many different types of flowers as they can, taking photos of all of them.
* Includes video tasks as well
If you liked these photo scavenger hunt ideas, check out all our other free printable scavenger hunt lists.