If you want to plan a fun team building activity to help people get to know each other better, here are 25 human scavenger hunt questions.
This game is perfect for all kinds of situations:
School classroom at the start of a new school year
New youth group
Office team building scavenger hunt for adults
Anywhere else you have a group of people who don't know each other very well
There's also a link below for a free printable list of all these questions, making this scavenger hunt even easier for you to plan.
Here's how to organize it: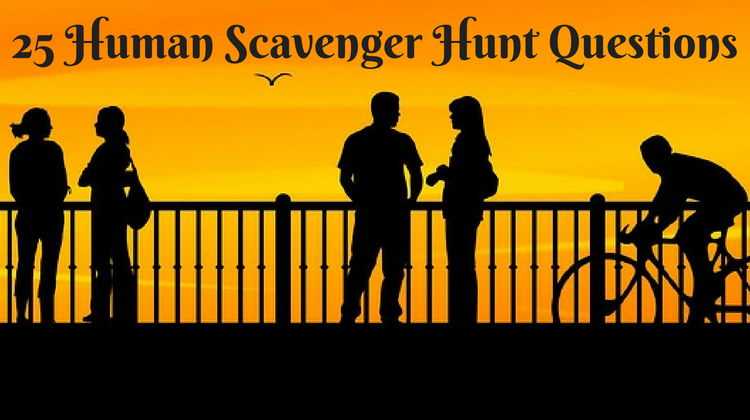 Resources
List of questions to ask people (see below)

Pens
Instructions
Give each person a copy of the questions and a pen. Their task is to go around the room and find different people who can answer 'yes' to the questions.
Once they've found someone who can give a positive answer, they should make a note of their name on the list next to that question.
Additional Rules
To encourage the players to talk to as many different people as possible, consider putting a limit on the number of times each person can appear on someone's list – between one and three times, depending on the size of the group.
For example, Human A speaks to Human B and finds that they can answer yes to 11 of the questions. Rather than them being allowed to write down that person's name 11 times, they'd be limited to a maximum of three answers.
Winner
This will be the person who either collects the most 'yes' answers by the end of the activity, or who gets all 25 'yes' answers first.
In the event of a tie, the winner should be chosen based on who has the most different names on their list.
Discussion
If you're playing this human scavenger hunt with young people in a youth group or in a classroom, spend some time afterwards to go through some of the answers.
This can be done to highlight common ground between students, thereby encouraging a team building environment and emphasizing the "Getting To Know You" aspect.
Scavenger Hunt Questions
Here's the list of the 25 questions to use for this game. Beneath this list is a link to download a free printable copy of the questions – please feel free to download it and use as many times as you need in the future.
Have you ever been in a helicopter?
Were you born overseas?
Do you have four or more siblings?
Is your birthday in June?
Have you been to the top of the Empire State Building?
Is your favorite color green?
Can you speak two or more languages fluently?
Have you ridden on a motorcycle?
Can you play the guitar?
Have you ever been stuck in an elevator?
Have you met anyone famous?
Do you have a reptile as a pet?
Are you wearing socks that aren't black or white?
Do you like to play soccer?
Have you read all the Harry Potter books?
Do you like to watch scary movies?
Have you ever been sailing?
Do you suffer from hay fever?
Have you ever gone swimming in the ocean?
Can you whistle using two fingers?
Have you been to Australia?
Are you left handed?
Do you have no middle name?
Can you say the alphabet backwards?
Do you like Brussels Sprouts?
Printable Human Scavenger Hunt Worksheet
If you liked this idea, we have a similar Getting To Know You activity on this site. Our sister site – Youth Workin' It – also has a number of activities to help young people get to know each other better, whether that's in a youth group or classroom environment.