If you want to plan a fun activity for people of any age, here are 3 mall scavenger hunt ideas you can use.
All of the ideas are photo scavenger hunts, which means that rather than collecting the items, players should take photos of each item.
You'll therefore need to ensure that each player / team has access to a camera – cellphone cameras are fine, so hopefully all the players will have access to one.
These ideas are perfect for doing with a youth group, but could just as easily be used with kids and adults too.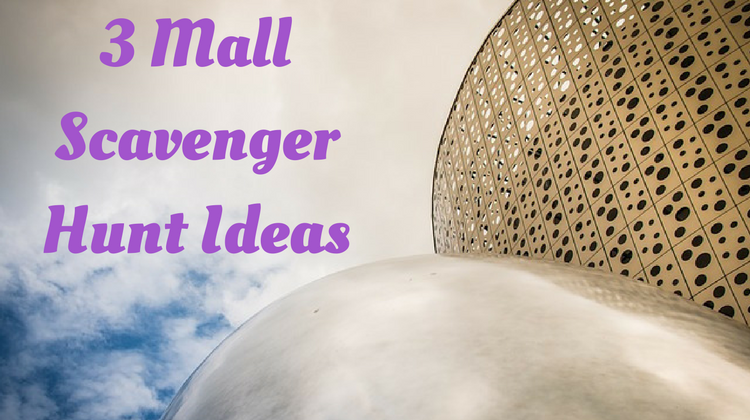 1. Eclectic Wardrobe
Shopping malls have many stores selling clothes, so make a list of different types of clothes that the players need to find. Rather than just listing items like T-shirt, dress, jeans, etc, make the descriptions very specific.
Here are some ideas of clothing items you could use for the scavenger hunt:
Maxi dress with flowers on

XL college T-shirt

Hoodie with writing on one arm
Yellow and orange dress
Pajamas with a video game design
Hat with a flower on it
Scarf with at least five colors on it
Underwear with a cartoon character on it
T-shirt with a celebrity who's no longer alive on it
Add in a few items that players can earn bonus points for – points that you'll award based on how funny they are. A few examples include:
Ugliest item of clothing you can find

Funniest T-shirt slogan
Creepiest looking mannequin
2. The Price Is Right
Make a list of different prices – players then have to take photos of items that cost the same amount, with price labels also in the photo as proof.
To ensure that this mall scavenger hunt isn't too hard, provide a range of prices for each amount. For example:
$9.95-$10.00 rather than $9.99

$49-$50 rather than $49.50
Alternatively, provide specific prices but award points based on how close they get to each amount. For example, you could award one point if they get within $1 and three points if they find an item whose price exactly matches the one you've specified.
3. Going From A to Z
Give each player / team a sheet with each letter of the alphabet listed. They then have to take photos of 26 different items in the mall that begin with each letter of the alphabet.
Points should be awarded as follows:
1 point for each photo (therefore up to 26 points if they manage to find an item for each letter)

3 points for finishing first
5 points for taking all the photos in alphabetical order
If you liked all these ideas for mall scavenger hunts, we have loads more of them here.