Here's an extremely fun photo scavenger hunt where players have to get creative by finding letters of the alphabet in everyday life.
This is perfect for kids, youth groups, adults, families and even in an office as a team building scavenger hunt.
It's simple to organize and can last for as long as you like. Here's how to play it: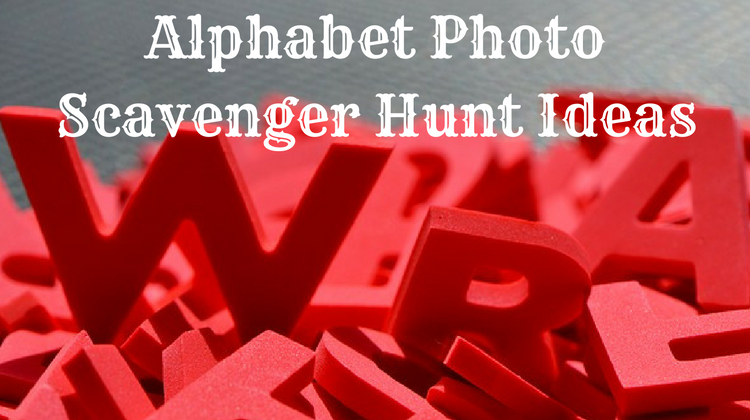 Resources
Cameras
Pens (optional)
Paper (optional)
Preparation
None
Teams
This can be played individually or in small teams – it depends on how many people you have participating and if you want it to be a team building exercise.
Time Limit
If you're playing this indoors, it might be worth limiting the game to an hour or two as there will only be so many items that players can take photos of.
However, if players are allowed to go anywhere they like for this photo scavenger hunt, it might be worth setting a time limit of 2+ hours to give them plenty of time to travel around.
Instructions
Ensure that each of the players / teams has access to a camera – this can be a regular camera or even just cellphone cameras.
Explain that their task is to look around and find everyday items that look like letters of the alphabet. They then have to try and take photos of all 26 letters.
Although the pen and paper are optional, it's worth providing this so that they can keep track of the letters they find as they go along.
Examples
Provide the players with examples of the kind of thing that you're looking for. If you'll be playing this as an outdoor photo scavenger hunt, you could show them the poster above that has photos of outdoor items for each letter of the alphabet.
If you're planning this as an indoor activity instead, here are some photos I took from around the house that could also be used as examples:
Points
Award one point for each letter of the alphabet that a team takes a photo of.
You should then also award one bonus point for each letter of the alphabet, based on which team's photo of the letter was best.
It's up to you how to decide what's best – it could be based on artistic creativity, how funny the photo is, ingenuity, quality of the image, etc, or a mix of all of these.
There is therefore a total of 52 possible points up for grabs.
Prize
If you want to award a prize, you could give them a print of their first initial in a similar style to the photos they'd just been taking.
Slideshow
Make sure all the teams get to see each other's photos at the end by setting up a slideshow of all of their pictures.