We recently published 4 scavenger hunt ideas you could use if you wanted to celebrate a wedding anniversary.
Here's an additional idea – a collection of 10 scavenger hunt riddles based on different anniversary gifts.
These are a mix of both traditional and modern gifts and are perfect for organizing a romantic activity for your partner.
Here's how to organize it: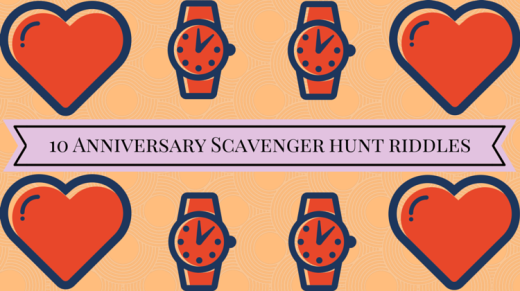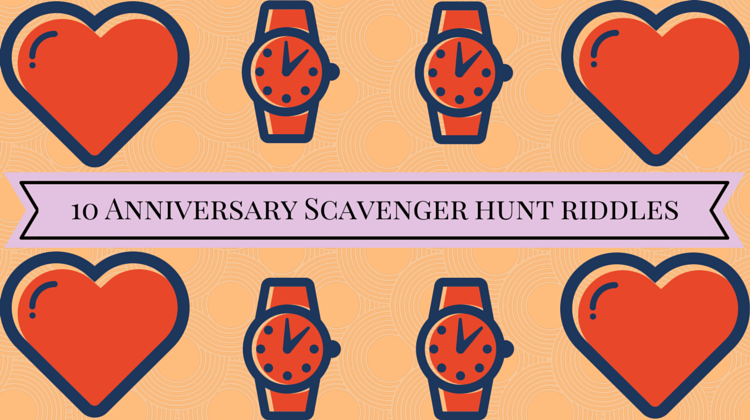 Resources
Post-it notes
Pen
An item made of each type of material listed in the riddles
Preparation
First, decide where you want to hide the actual anniversary gift for your partner and hide it there. The location will need to consist of 10 letters – it could therefore be something like 'In bathroom', 'Beneath bed', 'On the shelf' or 'Dishwasher'.
Next, write each of the letters on a post-it note, attach one post-it to each of the 10 items made of an anniversary material (see below) and then place or hide them in random places around the house.
Make a note of the rooms you place each item in – that way you can let your partner know which room to go to in order to find each one. If possible, don't place any of the items in the same room where you've hidden their actual gift in case they find it too early.
Finally, give your spouse each of the riddles. Once they've found all 10 items and post-its, let them know how many words the letters should make up and have them rearrange them in order to find their gift.
10 Anniversary Scavenger Hunt Riddles
Here are the 10 free rhyming riddles you can use:
Leather
Getting cold? Put on this jacket now.
It is made courtesy of a cow
Paper
Plenty of sheets but no bed in sight
It can cut you but it doesn't bite
Clocks
This is something you might keep next to your bed
It has hands but no arms, a face but no head
Diamond
It's a four sided shape, this shouldn't be hard
It goes with a spade, diamond and club on a card
Gold
Test if it's real by giving it a bite
It's usually yellow but sometimes it's white
Appliances
Fridge-freezer, toaster, washer-dryer.
Dishwasher, range and a deep fryer
Wool
It's quite fuzzy but isn't a beard
It's what you get when a sheep is sheared
Emerald
In this kind of city lived Oz's wizard
It's a green kind of color like a lizard
China
Put food on plates made of these and then have a feast
It's also a country that is out in the east
Watch
Don't have one of these? Meetings might be missed
It's something that you would wear on your wrist