If you work with young people in a youth group at church, there's a good chance that you're always on the lookout for ideas of fun activities to do with them.
To help you out, here's a Bible scavenger hunt idea to help them explore the passage of scripture about the Fruits Of The Spirit (Galatians 5: 22-23).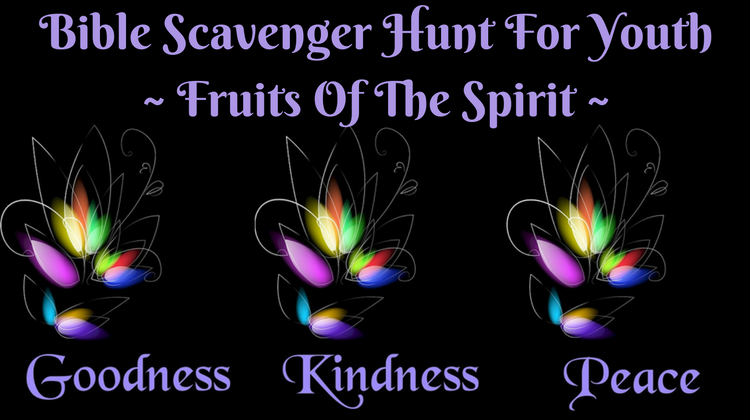 Resources
List of the Fruits Of The Spirit
Pens
Cameras (students' cellphone cameras are fine)
Preparation
None, other than getting permission slips signed by parents if you're planning on going offsite, as well as transportation if that's the case. Check out Youth Workin' It for details on how to create permission slips.
Location
This photo scavenger hunt can be played wherever your youth group usually meets, although you could always go somewhere like a shopping mall.
Idea
Give the youth a copy of the list of Fruits Of The Spirit:
Love

Joy
Peace
Patience
Kindness
Goodness
Faithfulness
Gentleness
Self-Control
Their task is to take photos of all of the fruits in action in real life. You can give them a few ideas as to what you're looking for, but encourage them to use their creativity to interpret the fruits.
For example, patience could be represented by a photo of a long line of people in a store, while joy might be a toddler on a swing in a playground.
Alternatively, you could have your youth act out various scenes representing the fruits and take photos of them.
Video Scavenger Hunt
Another option would be to have the young people taking video footage rather than photos, either of members of the public (with their permission or being discreet!) or of themselves acting out scenes.
If you liked these ideas, we also have even more Fruits Of The Spirit activities over at Youth Workin' It. They were suggestions for a youth retreat theme, but can just as easily be used during regular youth group meetings – you can check them out here.
We also have loads more Bible scavenger hunt ideas that are great for using with youth groups.