Are you planning a 40th birthday party for yourself or one of your friends?
Need a fun scavenger hunt idea?
If so, here's a scavenger hunt idea and printable list that's perfect for using with adults to celebrate a 40th birthday.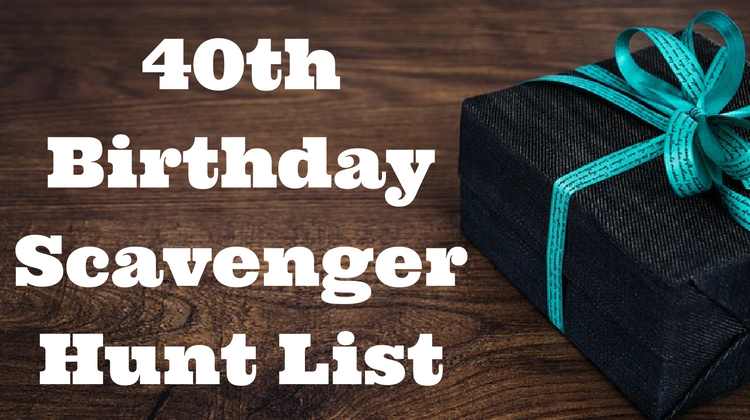 Resources
List (see below)
Pens
Cameras (cell phone cameras are fine)
Preparation
None
Teams
Split all the people into teams with 3-5 people in each – they'll be driving around, so will need to be able to fit everyone into one vehicle.
Instructions
Give each team a copy of the list below and a pen. Advise them that their task is to find each item on the list, but there's a twist – they have to find 40 of each item.
In case there's a tie at the end, set a tiebreaker where teams have to get 40 members of the public to pull a funny face for a photo.
Set a time limit for the game and then send them off hunting.
List
Here's a list of 20 items to have the teams find – beneath this is a link to a free printable copy of the list.
If you want to make it even more of a challenge, give them a list of 40 different types of items they have to hunt for. Bear in mind though that this will mean they have to collect 1,600 items and there might not be space in the cars to return with them all, especially if there are 5 people in each team!
If you want ideas of additional items for teams to collect, take a look at the list we produced for a 30th birthday.
Nuts
Coins of the same value
Spades playing cards
Single staples
Screws
Cotton swabs
Domino pieces
Vinyl records
Paper plates
Pieces of dry pasta
CDs
Badges
Pencils
Left-footed shoes
Pieces of chewing gum
Plastic bags
Washcloths
Uncrushed corn flakes
Cans of food
Styrofoam cups
Printable 40th Birthday Scavenger Hunt List
Points
Teams earn one point for each complete set of items that they return with. The winning team is therefore the one that finds the most complete sets.
If there's a tie, the winner can be decided by which team took the most photos of random members of the public pulling funny faces.