If you're a teacher or home-school parent who wants to plan a fun activity for a science lesson, here's a chemistry scavenger hunt idea you can use that's based on the periodic table.
It continues on from the first of our ideas with this theme, but has a new set of clues and a new free printable worksheet – it's still perfect for either using in the classroom or for handing out as a piece of science homework.
Here's a quick recap for how to organize this activity: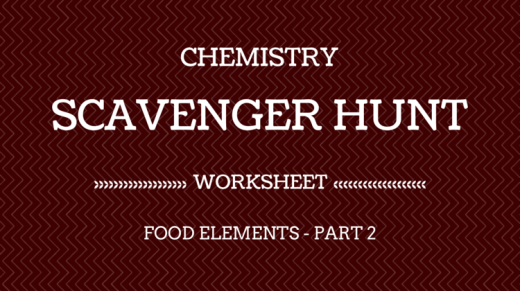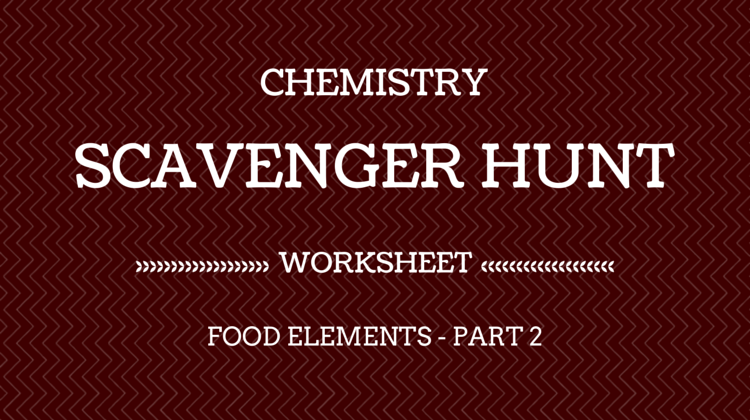 Resources
Worksheet (see below)
Periodic table
Pens
Preparation
There's no preparation needed for this periodic table activity.
Instructions
Give your kids a copy of the worksheet which has 10 sets of different elements.
Explain to them that their task is to find each of the elements on the periodic table and then write down their symbols in the same order.
When read together, each set of symbols will spell out a word – in this case, each word is a type of food.
Chemistry Scavenger Hunt Worksheet
As mentioned above, here's a list of 10 sets of elements for you to use, as well as the answers for each one.
Beneath this list is a link for the free printable worksheet – please feel free to print as many copies as you need for each of the kids in your classroom.
1. Praline
Praseodymium, aluminum, iodine, neon
2. Honey
Holmium, neon, yttrium
3. Stew
Sulfur, tellurium, tungsten
4. Onion
Oxygen, nickel, oxygen, nitrogen
5. Raisins
Radium, iodine, silicon, nitrogen, sulfur
6. Yams
Yttrium, americium, sulfur
7. Olives
Oxygen, lithium, vanadium, einsteinium
8. Herbs
Helium, rubidium, sulfur
9. Snickers
Tin, iodine, carbon, potassium, erbium, sulfur
10. Pasta
Phosphorus, arsenic, tantalum
Printable Chemistry Scavenger Hunt Worksheet – Food Elements Part 2