This Easter scavenger hunt list idea is perfect for anyone and everyone, so it's a great activity for kids, youth groups and even adults.
It's simple to organize and doesn't have to take very long. Here's how to play it:
Resources
Easter scavenger hunt list (see below)

Pens
Transport (if necessary)
Preparation
None
Teams
This game can be played with individual players, as pairs or in small teams – it all depends on how many people will be playing.
Instructions
Give each player / team a copy of the list and a pen for them to check off the Easter-themed items as they find them. Their task is to find and collect as many of the items as they can.
Set a time limit that they have to be completed by and arrange a meeting place.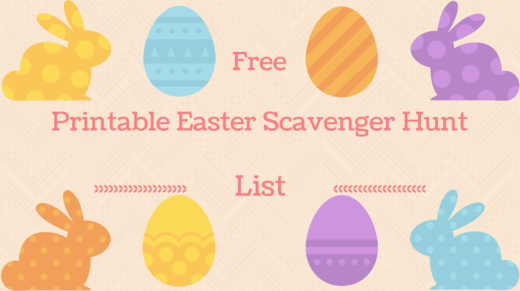 To save you time, here's a list of 14 items you can use for an Easter scavenger hunt. Beneath the list, there's a link to download a free printable copy of the list – please feel free to print as many copies as you need.
n.b. There are two copies of the list on the page so that you don't have to use as much paper when printing them off.
Basket

Bunny stuffed animal
Cadbury's Creme Egg
Carrots
Chicks
Chocolate
Chocolate bunny
Cross
Easter egg
Easter grass
Jelly beans
Painted egg
Peeps
Peter Cottontail
Printable Easter Scavenger Hunt List
Winner
The player / team that finds the most Easter items from the list by the end of the scavenger hunt is the winner.
If more than one player / team found the same number of items, the winner will be the one that returned to the meeting place first.
Prizes
It's Easter, so candy's a perfect option here!
If you liked this idea, be sure to take a look at all our other Easter scavenger hunt ideas.