This fast food scavenger hunt idea is a fun activity for people of any age, but works especially well with teenagers or a youth group, particularly if they can drive.
The best part about it is that it's one of the easiest scavenger hunts to organize, as there's nothing to organize!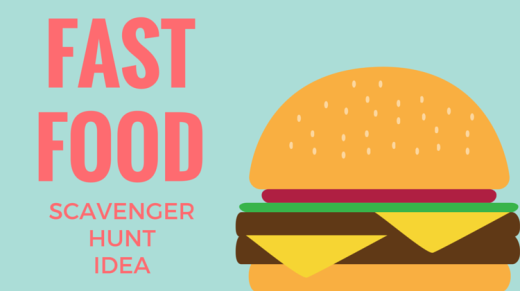 Resources
None
Preparation
None
How To Play
Split the group into teams, or just have them play as individuals if there are only two or three people taking part. The objective is for each team to collect one empty food wrapper / packaging item from as many different fast food restaurants as they can.
Give them a location where they have to meet and agree on a time that they have to be there – for every minute that they're late, they'll lose a point.
Items
As mentioned above, for this fast food scavenger hunt players need to collect various empty food wrappers or packaging items. Examples of what we mean are:
Box for fries
Hamburger wrapper
Pizza box
Chinese carton
Ice cream bowl
Chicken nugget box
Salad bowl
Bucket for chicken
Rules
The items that players collect should be empty
They don't need to actually buy the items – they should just ask one of the fast food restaurant employees, or even a customer once they've finished eating!
Only items that aren't readily accessible are allowed. i.e. only items that are kept behind the counter will be counted, so excludes drinking straws, packets of ketchup, etc
This should go without saying, but players should ask politely and not be rude if the employees decline to give them what they ask for
Items cannot be paid for, as this would give an advantage to teams / players who have money
Scoring
1 point should be awarded for every different fast food restaurant that they have an item for.
1 bonus point should also be awarded for every different type of food packaging they get. For example, if a team only obtained boxes for fries from all the different restaurants, they'd only earn one bonus point.
On the other hand, if they managed to get all the different items listed above (hamburger wrapper, pizza box, etc), they'd earn eight bonus points.
Winner
Needless to say, the winner of the fast food scavenger hunt is the one who scores the most points once the regular and bonus points have been totaled (and points for being late have been deducted if applicable).
Prize
If you're offering a prize to the winner, why not give them a restaurant gift card.
If you liked this idea, check out all our other food scavenger hunt ideas.