If you'd like to give your school students a fun math activity to do, here's an idea for a geometry scavenger hunt.
This includes a free printable worksheet that can be used either in the classroom or as a homework assignment – see the link below for a copy.
Here's how to plan this activity: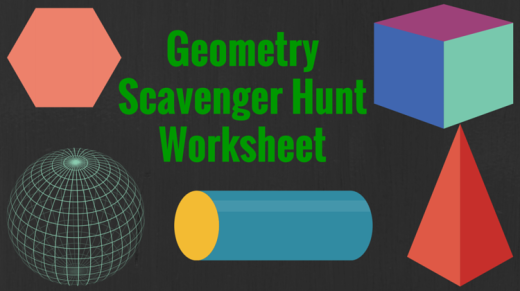 Resources
Worksheet (see below)

Pen
Computer with internet access
Preparation
None
Idea
Give each of the kids a copy of the scavenger hunt worksheet. Explain that on the page, there's a list of 15 different geometric shapes.
Their first task is to think of everyday objects that are the same as the shapes listed and write these on the sheet in the space provided.
Their second task is to go online and find pictures of each of the objects that they've added to the list. They then need to copy and paste these images into a document, labelling each object with its corresponding shape from geometry.
Alternative Option
If you're planning to use this as a homework assignment, you could appeal to their creativity by making it a photo scavenger hunt.
Rather than them finding pictures online, set them the challenge of taking photos of the different objects instead. They can then upload these into an online photo album so that they don't have to print them out.
Home School
If you home school your kids, you could instead set them the challenge of finding objects around the house that match the shapes.
To help teach them about geometry, these real world folding shapes could also be extremely useful.
Examples
If your kids need some ideas to get them started, you could mention a few of the following examples of geometric shapes and everyday objects:
Sphere – soccer ball

Cylinder – can of food
Diamond – baseball field
Cubes – dice
If you do provide any examples, tell them that they're not allowed to use the objects that you've listed.
List
Here's a list of 15 different shapes that you're likely to have covered in geometry lessons – you can use this list or make your own if there are other shapes that you'd like to test them on.
Beneath the list is a link to the free printable geometry worksheet – please feel free to make as many copies as you need for your math lesson.
Circle
Triangle
Square
Rectangle
Diamond
Pentagon
Hexagon
Octagon
Trapezoid
Quadrilateral with each side being a different length
Sphere
Pyramid
Cube
Cylinder
Cone
Printable Geometry Scavenger Hunt Worksheet
If you liked this idea, check out all our other math scavenger hunt ideas.