Scavenger hunts are an excellent way to have fun with your family at Thanksgiving.
Here's a Hand Turkey scavenger hunt idea for you to use, which is also a great opportunity to encourage your family and show them how thankful you are that they're in your life
Here's how to do this scavenger hunt idea: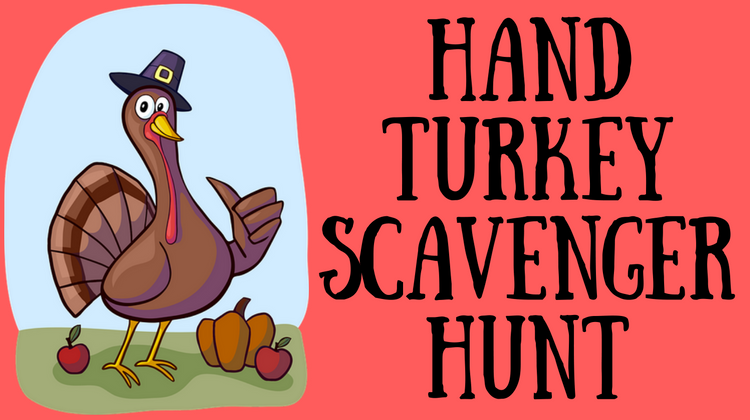 1. Create loads of hand turkeys
Watch this guide if you're not sure how to make them. We'd recommend using orange construction paper to save time instead of coloring them in.
You could also get your kids to help make them – this will not only save you time, but it's also something fun for your children to be involved in. If you do get them to help, make sure they're not involved in the next step so that it's a surprise.
2. Be thankful
On the back of the hand turkeys, write down things that you're thankful for that relate to the person/people doing the searching. For example, for your kids you could write things like "I'm thankful that you keep your room tidy", " I'm thankful that you study hard at school", etc.
If your partner will be involved, you could write things like "I'm thankful that you bring me flowers", "I'm thankful you take such good care of our children", etc.
Tip: If you'll have 2 or more people searching for the hand turkeys, write their names next to what you're thankful for. This way, they'll know who each compliment relates to.
3. Scavenger hunt
Hide the hard turkeys all around the house – in easier places if your children are little, or more obscure places with teenagers. Next, have your kids search for all of them.
Once they've finished, sit down as a family and have them read out everything that you're thankful for about them. This will be an activity that remains in their memory for a long time. Make sure you're not left out though – get them to tell you reasons they're thankful for you as well!
If you liked this idea, check out our other Thanksgiving scavenger hunts.