If you want to plan a fun activity for adults or teens, here's a hotel scavenger hunt idea that could be just the thing.
It's simple to organize and play and can be a competitive race against time around the city.
Here's how to play it: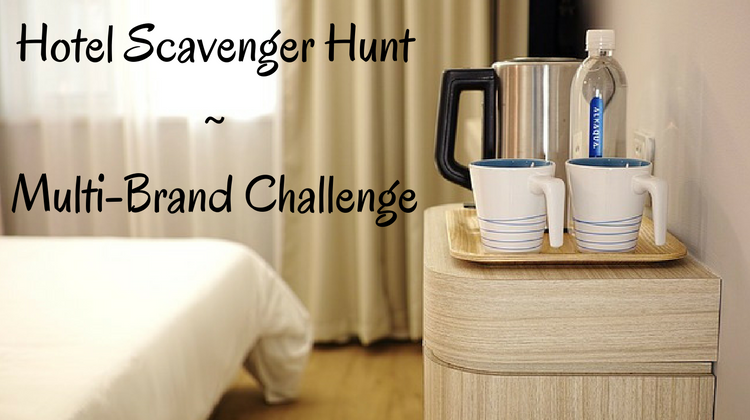 Resources
List of hotels
Pens
Cameras
Cars
Internet access
Preparation
None
Teams
This game will be most fun in teams of 3-4 people, but could also be played in pairs or individually if there will only be a few people participating.
Instructions
Give each team a list of hotels, such as the one below, and make sure they also have the other resources available to them.
Explain that they're going to be doing a photo scavenger hunt. Their task is to drive around and take photos of each hotel's sign outside. The reason for taking the photos is as evidence that they've visited each of the hotels.
There are different types of photos you could have players take instead, such as taking photos of themselves in each of the hotel lobbies. If you choose a different option though, make sure that this won't disrupt the hotels, particularly because there will be several teams doing the same thing.
They'll also need internet access so that they can research where all the different hotels are located and the quickest route to all of them. If they have smartphones, this is something they could do while they drive around.
Safety
If you're planning this for teens – such as for a youth group activity – emphasize that they need to play this safely by not speeding in order to get to the hotels more quickly.
List of Hotels
When publishing scavenger hunt lists, we usually provide free printable lists. That's not the case this time though, as your list could vary depending on which brands you have in your local area.
We've therefore provided a list of possible different brands below for you to pick and choose from.
Holiday Inn
Holiday Inn Express
Crowne Plaza
Intercontinental
Hotel Indigo
Candlewood Suites
Staybridge Suites
Hilton
Waldorf Astoria
Conrad
Doubletree
Embassy Suites
Hilton Garden Inn
Hampton Inn
Homewood Suites
Marriott
Ritz-Carlton
Renaissance
AC Hotels
Courtyard by Marriott
Fairfield Inn & Suites
Springhill Suites
Residence Inn
Sheraton
W Hotels
aloft
Meridien
Westin
Best Western
Millennium
Radisson
Ramada
La Quinta Inns & Suites
Wyndham
Wyndham Garden
Wingate
Howard Johnson
Independent hotel
Winner
The winning team is the one that's first in taking photos of all the hotels on the list. Alternatively, set a time limit that the teams have to return by – the winners will then be whichever team took the most photos.