This love song scavenger hunt is a great activity to do with a group of people, no matter what their age.
It's perfect to use as a Valentine's Day activity, although could be used at any time of the year.
Here's how to plan it: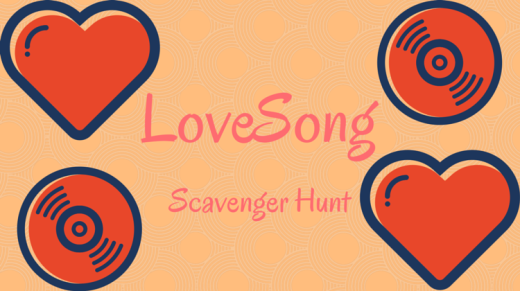 Resources
Love Song scavenger hunt list (see below)
Pens
Cameras (cellphones with cameras are fine)
Preparation
None
Idea
Players / teams are given a copy of the list and have to take photos of all the items on it. This is slightly different to a normal photo scavenger hunt, as they'll be taking photos of song titles rather than actual objects.
This will therefore require some creativity in how they choose to visually interpret the songs.
Location
This music scavenger hunt can be played anywhere. If you're organizing this for adults, you could let them be free to go anywhere they like to take the photos. Alternatively, you could make it harder (and funnier!) by making them act out the songs.
If you're doing this activity with children or a youth group, it might be better to take them to a mall as this will give them all kinds of different photo opportunities.
Points
Players should earn one point for every love song that they take a photo of. They should then earn bonus points based on other factors, like if they've involved members of the public, how funny the photos are, etc.
The winner will therefore be the player / team who's scored the most points when totaling the basic and bonus points.
Songs You Can Use
Any type of song can be used for this scavenger hunt. For example, you could create a list of:
Famous love songs
80s ballads
Songs with 'love' in the title
Songs by a crooner
To make it easier for you to plan this activity though, we've provided a list of 20 songs below that include 'love' in the title. These have been specially chosen as we think they'll make for some interesting and funny photos.
Below the list, there's also a link to download a free copy of the list – this can then be printed off and saved to your computer if you like.
Love Song Scavenger Hunt List
I Just Called To Say I Love You
Interstate Love Song
Accidentally In Love
Love Is All Around
Endless Love
When Love And Hate Collide
Addicted To Love
Love Drunk
Love Street
How Deep Is Your Love
I'd Do Anything For Love (But I Won't Do That)
Love Me Tender
Bleeding Love
The Power Of Love
Can't Buy Me Love
Love Me Two Times
Love Shack
Love Bites
Love The Way You Lie
Love Hurts
Printable Love Song Scavenger Hunt List
If you liked this idea, check out all our other photo scavenger hunts. If you're looking for other activities to do on February 14, we also have loads of Valentine's Day scavenger hunt ideas.