This world geography scavenger hunt idea is a great activity to use with any age. It can be used for kids in the classroom as part of a school geography lesson or in a youth group that's seeking to increase world awareness.
Alternatively, you could organize it as an adult scavenger hunt at a travel-themed party to add a competitive game to the evening's fun.
Here's how to organize it: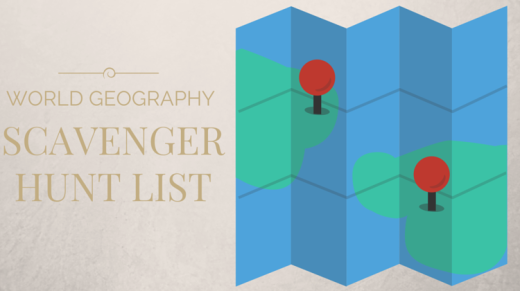 Resources
List of countries ending in A (see below)

Paper
Pens
Preparation
None
Teams
This map scavenger hunt can be done with teams of any size – individually, in pairs or small teams. It really depends on how large your group is and how many world maps you have.
Instructions
Give each person / team a map, piece of paper and a pen. Their task is to search the map to find as many different countries ending in A as they can – they should then list these on the paper.
Set a time limit that they have to be completed by and set them hunting!
Winner
The person or team who has the longest list of countries once the time is up.
List Of Countries
At the time of writing, there were 75 countries that players might be able to find. Here's a list of countries ending in A – you can also find a link to a free printable copy of the list at the end:
Albania
Algeria
Andorra
Angola
Antigua and Barbuda
Argentina
Armenia
Australia
Austria
Bolivia
Bosnia and Herzegovina
Botswana
Bulgaria
Burma
Cambodia
Canada
China
Colombia
Costa Rica
Croatia
Cuba
Dominica
Equatorial Guinea
Eritrea
Estonia
Ethiopia
Gambia, The
Georgia
Ghana
Grenada
Guatemala
Guinea
Guyana
India
Indonesia
Jamaica
Kenya
Latvia
Liberia
Libya
Lithuania
Macedonia
Malaysia
Malta
Mauritania
Micronesia
Moldova
Mongolia
Namibia
Nicaragua
Nigeria
North Korea
Panama
Papua New Guinea
Romania
Russia
Rwanda
Saint Lucia
Samoa
Saudi Arabia
Serbia
Slovakia
Slovenia
Somalia
South Africa
South Korea
Sri Lanka
Syria
Tanzania
Tonga
Tunisia
Uganda
United States of America
Venezuela
Zambia
Printable List Of Countries Ending In A
If you liked this world geography scavenger hunt idea, check out all our other ideas for geography and school scavenger hunts.