If you're looking for a great team building activity for your workplace, this office scavenger hunt list is just what you need.
This is a traditional scavenger hunt where players have to find and collect all of the items on the list, rather than taking photos of them. This will therefore make it more difficult to complete as there may only be one (if any) of each item in the office!
This idea is best done with players split into teams, but if you're only a small workplace then it could be done with employees taking part by themselves.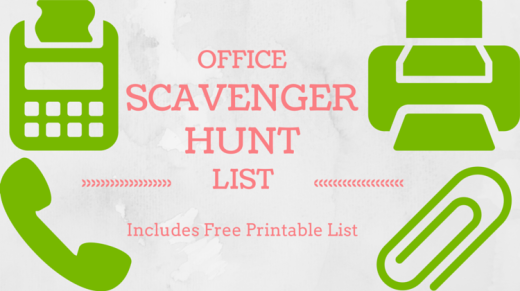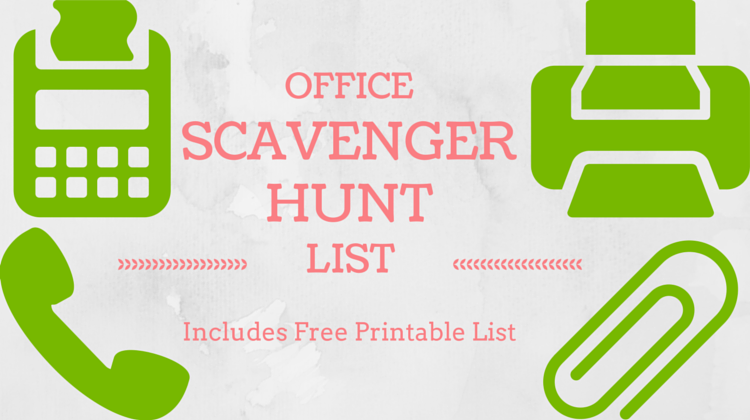 Office Scavenger Hunt List
Put together a list of items that you'd commonly find in an office, but add an extra element to each item to make them harder to locate.
You may not have the time or inclination to come up with enough items for your own list though. Well, don't worry – we've done it for you and prepared a list with 20 different items for teams to find which are listed below.
We've also provided a link to download a free copy of the list that you can save to your computer if you want. Please also feel free to print it as many times as you like.
Stapler with someone's initials on it
Pink paper clip
Photo with three children in it
Blue, green and yellow rubber bands
Desk calendar with doodles on it
Stress relief toy
Orange highlighter pen
White calculator
Photocopy of someone's face (close your eyes!)
Stuffed animal wearing a T-shirt
Green coloring pencil
Post-it notes still in plastic wrapper
Novelty tape dispenser
Exactly 50 chads from a hole punch
3 candy bars
Mouse pad with at least 5 different colors on it
Blue chair
Starbucks coffee mug
Red scissors
Real plant
Printable Office Scavenger Hunt List
Prize
If this is being organized in an office workplace, some prizes that might be appreciated by the winning team could include:
2 hour lunch break
Afternoon off
Box of chocolates
Taken out to lunch
Bottle of wine
Alternatively, some of these novelty gifts might go down well too:
If you liked this idea, check out our other team building scavenger hunt ideas, as well as our book – 52 Scavenger Hunt Ideas.