If you want to plan a fun activity for your kids when the weather's nice, here's a free printable outdoor scavenger hunt list that you can use.
This can also be an effective team building activity for youth groups.
Here's how to organize it:
Resources
List (see below)

Pens
Cameras (optional – use if playing this as a photo scavenger hunt)
Preparation
None
Location
Outdoors! Most of the items and activities the kids have to find should be in your neighborhood, but they may need to walk further afield depending on where you live.
Teams
If you're planning this for your own kids, you could have them working together or individually, depending on how competitive you want it to be.
This outdoor activity is also great for using with a youth group. Split them into smaller teams and play it as a photo scavenger hunt – this is where they have to take photos of each of the items on the list to prove that they saw them.
This can help with team building as the youth can work together to decide on the best places to go in order to find everything on the list.
Instructions
Give the players a copy of the list and a pen. Explain that they have to walk around outdoors and try to find all of the items and activities that are on the list.
Winner
The player or team who has found the most items from the list by the end of the outdoor scavenger hunt.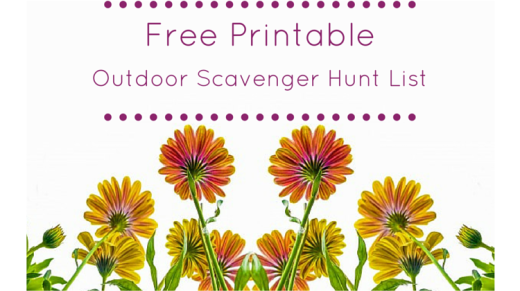 Here's a list of 30 items and activities for the players to find – some of them will be easier to complete than others.
Beneath this is a link to a free printable copy of the list – please feel free to print as many copies of this as you need for your scavenger hunt.
Someone walking a dog
Baby in a stroller
Tree with no leaves
Someone cycling
Red car
Swing set
Bird drinking water
Someone jogging
Airplane
Traffic lights
House with a blue front door
Flag
Basketball hoop
Pothole
Picnic table
Someone fixing a car
Fountain
Boat
Commemorative plaque
Animal yard ornament
Mailman
Vehicle with tinted windows
Someone taking a photo
For Sale sign in a front yard
Animal that's not a pet
Public trash can
Motorbike
People moving in or out of a house
Stop sign
Helicopter
Printable Outdoor Scavenger Hunt List
If you liked this idea, you may also like all of our other outdoor scavenger hunts.