Here's a continuation of our series of 'Things Beginning With…' scavenger hunt ideas, with today's edition being based on the letter C.
This type of hunt is perfect for playing with people of any age and for groups of any size.
Here's how to play it: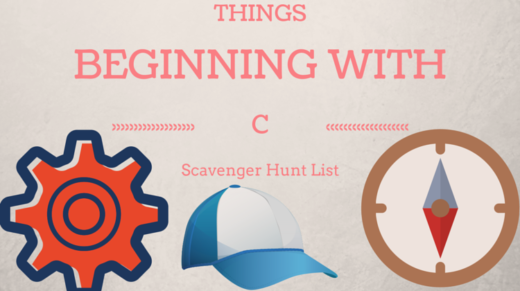 Resources
List (see below)
Pens
Cameras (if organizing as a photo scavenger hunt)
Preparation
None
Teams
If possible, play this with small teams of 3-4 people per team. You don't have to organize it for a large group like this though – it can just as easily be played if you only have one kid.
Instructions
Advise the players that their challenge is to find as many items as they can that start with the letter C.
There are two ways this can then be played:
Item scavenger hunt – players have to collect items that begin with C
Photo scavenger hunt – players have to take photos of items that begin with C
If the aim of this is to encourage creativity in the players, choose the photo option. If you want to make the game as difficult as possible, choose the item option instead.
Put a time limit in place and arrange a place to meet, then send everyone out to look for the C things.
Points
Award one point for each item that they collect / photograph, then award additional points if any of their items appear on the special items list.
Special Items
Make a list of 10 items that start with the letter C, but don't tell the players what these are. If they photograph / collect any of these items, award two bonus points for each one that they found.
If you choose to play the version where players have to physically collect the items, ensure the special items list doesn't include things that they wouldn't be able to get hold of, like 'ceiling' or 'chimney' (these would be fine for the photo version though).
Lists
To make this game nice and easy for you to organize, there are two different lists of special items below – one for the item version of the game and one for the photo version.
Beneath these is a link to a free printable scavenger hunt list that also includes a worksheet for players to note down all of the items they find as they go along.
** Important – the second page of the document lists the special items, so make sure the players only get page 1! **
Item scavenger hunt
Cake
Candle
Candy
Cap
Card
Catalog
Checkbook
Coca-Cola
Corn
Cup
Photo scavenger hunt
Calf
Cat
Chair
Cheese
Clip
Cog
Cop
Crab
Crease
Crumb