If you're going on a long car journey or road trip with kids, here's a free scavenger hunt list that will help keep them entertained.
It's simple to play and doesn't require any organizing, so that's one less thing to have to prepare before your trip.
Here's how to play it: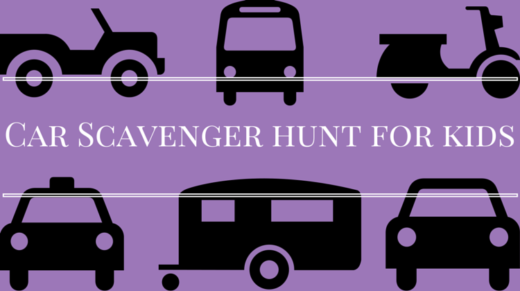 Resources
List of vehicles (see below)
Pens
Preparation
None
Instructions
Give each of your kids a copy of the list of cars and other vehicles. Explain that their task is to try to find as many of the different cars on the list as they can during the road trip.
Scoring Options
For trips with only one child in the car with you, this is a game they can try to complete by themselves by the end of the journey.
If you have two or more kids though, you can make it a little more competitive. There are a couple of ways it can be played with two+ players:
First To Twenty – With this version, the first child to spot all 20 vehicles (or the most vehicles during the journey) is the winner
Best Of – Write down the name / initials of the child who's the first to find each item on the list. The winner's therefore the person who finds the most cars, trucks, etc first
Tiebreaker
With both versions, there's the potential for it to finish in a tie. To ensure that there's a winner, also have them play a tiebreaker during the game.
While the kids are looking for the different cars, also have them look for a car that's the same as the one you're travelling in – same make, same model and same color.
If the regular car scavenger hunt finishes in a tie, the winner will be the one who was first to spot the similar car to yours.
List
Here's a list of 20 different cars and other vehicles that the players have to find.
Beneath this is a free printable scavenger hunt list containing the same list – please feel free to print as many copies as you need. There are two copies of the list on each page to reduce the number of sheets you need to print.
2 door car
4 door car
Minivan
Hybrid vehicle
Electric car
Car trailer
Semi-trailer truck
Moving van
SUV
Truck
Motorcycle
Bus
School bus
Ambulance
Fire truck
Police car
Convertible
Van
Car transporter truck
RV
Printable Car Scavenger Hunt List For Kids
Prize
If you'd like to offer a prize to the winner of the game, here are a few suggestions of prizes you could give: