If you're planning a wedding for yourself or someone else, here's a fun scavenger hunt idea you can use that everyone at the wedding reception can take part in.
It's a great way to get unique lasting memories for the bride and groom, while also being a good icebreaker for people sitting at the same table who may never have met each other before.
Here's how to organize it: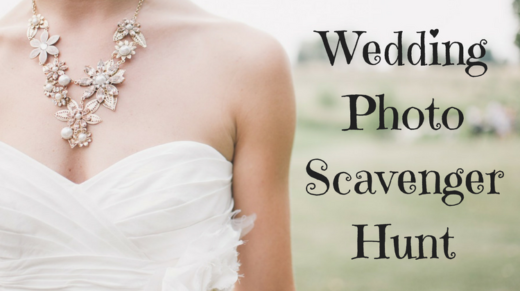 Resources
Preparation
Given how busy you'll be preparing a wedding, there's thankfully not much preparation needed to organize this scavenger hunt.
All you need to do is ensure that every table at the wedding reception has a copy of the list and a pen. If you want, you could also provide disposable cameras for each table, although that's not essential as people could use the cameras they already have with them.
Instructions
Advise the wedding guests at the reception that you've organized a photo scavenger hunt for them to take part in. This can either be done by the MC or by leaving a note on each table with the other resources.
Explain that there's a list on each table containing 15 scenes you'd like them to take a picture of. Their task is to take all 15 photos throughout the reception, either using the disposable cameras (if you've provided them) or their digital cameras / smartphones.
Photos
If you've chosen to use disposable cameras, ask the guests to leave them on their tables at the end of the wedding reception and arrange for someone to collect them and develop the photos.
For digital photos taken by guests using their own cameras, set up either a Flickr group or Facebook group where they can upload their photos. This also has the benefit of guests being able to see each other's photos, plus it'll be cheaper than developing pictures from disposables.
Photo List
Here's a wedding photo scavenger hunt list of 15 different scenes for the guests to take photos of.
Beneath this is a link for a free printable copy of the list – please feel free to print as many copies as you need for your wedding.
Bride and groom kissing
Flowers
Two kids dancing
Table centerpiece
Bride hugging someone who's not the groom
Groom giving a speech
Bride and groom dancing
People toasting the married couple
Someone laughing
The wedding cake being cut
Group photo of everyone at your table
Couple who have been married the longest
Someone crying
The official photographer taking a photo
Wedding rings