Make learning fun with this winter facts scavenger hunt!
It's perfect for giving your kids something to do this winter, as well as being a fun activity for adults at a winter / Christmas party.
Players will need to go online and search for the answers on the internet. Most cellphones have internet access nowadays, so it shouldn't matter if they don't have access to a computer when finding answers to the clues.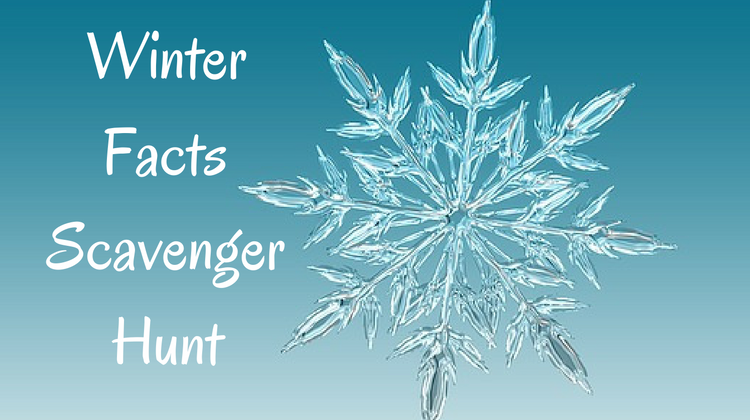 Winter Facts Scavenger Hunt List
To save you the hassle of having to research different questions to ask, we've produced a list of questions (and answers!) that you can use.
Below that list is a link to a free downloadable PDF containing the same questions. This means that you can just print off the list, instead of having to copy and paste all the questions into a Word doc yourself.
The first page of the document only contains the 10 questions relating to winter facts – this is the page that should be given to all of the players. The second page has the answers to all of the questions for you to check against their answers.
Winter Facts Questions & Answers
1. In 2007, a world record was set for the most snow angels made simultaneously in the same place. How many snow angels were made and where did the record take place?
8,962 snow angels were made in Bismarck, North Dakota
2. How many sides does a snowflake have?
Six
3. What is the coldest temperature ever recorded on Earth and where was this?
-128.6° F in Antarctica
4. What is the Winter Solstice and when does it occur in the northern hemisphere?
When the sun is at the most southern point in the sky. This happens on December 21 or 22 each year
5. How big was the largest snowflake that was ever found and where did it fall?
15 inches (38 cm) wide and was found in Fort Keogh, Montana
6. What is the world record for the most snowfall in a 24 hour period and where did it happen?
76 inches, which fell in Silver Lake, Colorado in 1921
7. What is the Grinch's brain full of?
Spiders
8. How high was the tallest snowman that's ever been built and where did this happen?
122 feet in Bethel, Maine
9. What term is given for the fear of snow?
Chionophobia
10. If the wind is blowing at 40 mph and it's 10° F outside, what is the windchill?
-15° F
Printable Winter Fact Scavenger Hunt List

If you liked this idea, check out our other winter and Christmas scavenger hunts.