If you want to plan a fun team building activity, take a trip to one of my favorite stores and use this printable Ikea scavenger hunt list.
It's a game that can be used with all sorts of people – kids, adults, youth groups, work colleagues from your office and more.
It'll be a memorable time for everyone as the tasks they have to complete make it a really funny scavenger hunt.
Here's how to organize it: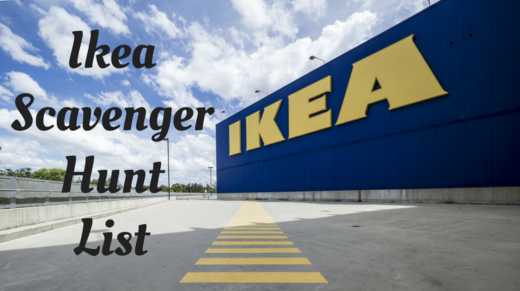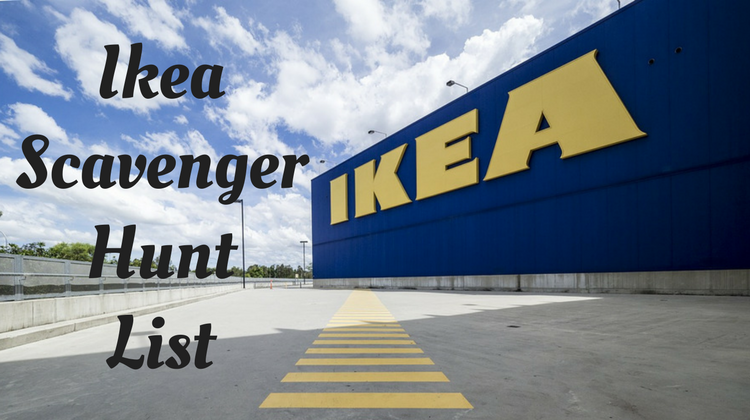 Resources
List of tasks (see below)

Pens
Camera
Preparation
None needed
Teams
Split the group into small teams, with a minimum of 3 players on each team.
Instructions
Give each team a copy of the list that's below and a pen to keep track of their progress. Make sure that each team also has a camera – cell phone cameras are fine.
There are 20 tasks on the list that they have to complete in Ikea. It's a photo scavenger hunt, so they need to take pictures of them completing each task as proof.
Set a time limit and a meeting place (the restaurant could be a good option) and send them off to complete all the activities.
If planning this for kids or a youth group, make sure they remember that they need to show respect to Ikea store workers and to leave displays how they found them.
Points
Teams will earn one point for each task that they complete that's on the list.
You can then award bonus points based on the photos that they take – these can be awarded based on how funny the photos are, the creativity of the pictures, for getting members of the public involved, etc.
Winner
The team that earns the most points once the regular and bonus points have been totaled up.
Tasks
Here's the list of 20 funny tasks to be completed. Beneath this is a link to a free printable copy of the list – please feel free to print as many copies as you need for personal use.
Team laying in a bed
"I can't believe we all fit in here"
Someone pretending to use the toilet
"I can see you all hiding"
Reading a book while sitting on a Poang chair
"I don't understand how to use this item of furniture"
Team pretending to have dinner
Someone washing dishes
"Uh-oh"
How many team members does it take to change a light bulb?
This item's uuuuuggggggly
Spell out Ikea using Ikea products
"This artwork makes me feel so emotional"
Entire team doing a catalog pose
Lamp shades that make good hats
"What is this meant to be?"
The most awesome superhero ever
Recreate a movie scene
"We're so excited about this completely boring item!"
Storage not being used properly
Printable Ikea Scavenger Hunt List
Slideshow
Once the game's finished, display all the photos on a TV / computer screen so that the teams can see each other's photos.
Alternatively, upload all the photos to an online photo album for them to view at their own leisure.
If you liked this idea, check out all our other funny scavenger hunt ideas.